Kenzley Hess competes for Miss Utah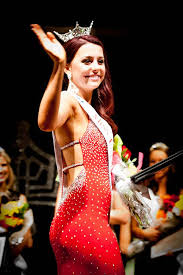 Like other females at the age of 18, Kenzley Hess received a letter confirming her eligibility to run in the 2014 Miss Farmington pageant. After she went to the initial meeting, Hess decided to compete for the crown, although she never considered it in her childhood years. Her mother, a judge for pageants, offered her words of wisdom, yet Hess said she "didn't want her advice." As soon as Hess turned into her room, however, she practiced whatever her mom said. She scanned over her ideas for a platform and stopped at bullying awareness. As an alumni of the Davis's Musical Theater program, she used her vocal talent by way of Broadway songs.
"I just felt like I need to do the pageant. It just kind of happened," Hess said. "There was never a time where I was like, 'I'm going to do it.' I just kind of went with the flow, then it happened."
Hess accepted the title of Miss Farmington. From that point on for the rest of the year, she worked to bring the community together through events and service. She appeared at places such as schools and Farmington Festival Days, and is currently looking to raise 1,000 pairs of footwear through the Power to Become (formerly known as Dando Amor) Shoe Drive by the end of May. Her platform addressed bystanders and what they need to do to combat bullying.
Now it's the spring of 2015, and soon Hess must place the crown on another girl's head.
"I'm scared, but I think it'll be so fun because that's their moment and that's the first time that they get to be Miss Farmington," Hess said. "It's a big deal to have that crown put on your head, and so I'm really excited for it and to be able to do that for someone."
Although the upcoming pageant signals the completion of her term, Hess knows that it's been a success. Having children being open about bullying with her, and thanking Hess for her platform, allows her to take off her crown with fulfillment.
"Yes, I am very happy with the progress that I've made," Hess said. "I'm not done yet, so I'm hoping to be helping others more."