Children's Theater performs at elementary schools for experience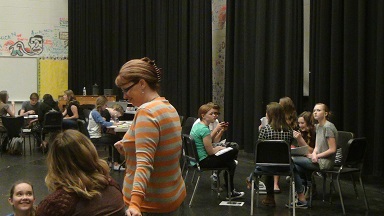 About 25 years ago there was a children's theater class, so when Ms. Thorne suggested the idea of turning her children's theater unit into an actual class, the administration was very supportive. They already held auditions and have selected 27 students out of 50 to be in the class, that will take place 2nd semester during 8th period.
"For third term we'll be working on different performances that we want to take to the elementary schools, and fourth term we'll actually be out in elementary schools performing." Ms. Thorne said.
The auditions really required a lot of imagination from the students, which has gotten them really excited to be able to use their imagination to put on performances for little kids. Sydney Ives, a student who made childrens theater is especially excited.
"We were split up into groups of five or six and we drew from a tupperware full of fairy tales, hansel and gretel, jack and the beanstalk, fairy tales like that. Then we chose 3 random props and then we took all the people in our group and went to plan, then we came back to the little theater, and she had brought children in, and we got to perform for the little kids, and that was just an opportunity to try it out for real. Because little kids are different to perform for instead of adults."