Single student participates in high school rodeo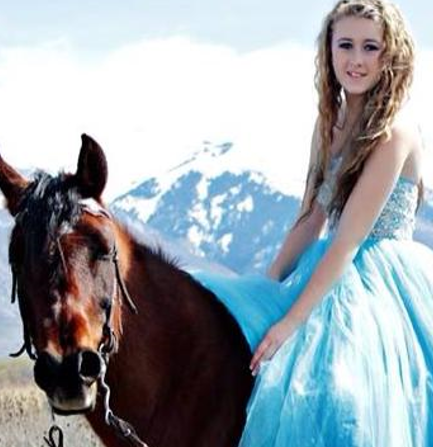 Every child goes through a stage of complete obsession with horses. Most of the time, this fire eventually dies as the child gets older. This is not the case of Senior, Karissa Cleven. Her fire is raging; and has been since she first set eyes on a horse. She has taken her passion and perfected her riding techniques to the point of excellence. As the sole participant in High School Rodeo at Davis, she lets her wild passion consume her as she performs in front of large groups of people several times each month.
Cleven described her joy and love for her favorite hobby; "I've loved horses ever since I was little. I was always that little girl that wanted a pony for her birthday or Christmas."
"The High School Rodeo," in the words of Cleven,  "is one of the biggest national organizations that is done for high school students. It makes it easier for you to compete on the level of kids your age, rather than professionals that have been doing it for a lot longer and have a lot more resources than most high school students."
The High School Rodeo was made for students in ninth grade and older; however, there is a rodeo for younger students too. "The Junior High Rodeo association is for sixth through eighth grade, and its purpose is to allow those younger kids to compete on their level."
Cleven has participated in the Junior High Rodeo for two years, and has been competing in High School Rodeo for one. "I used to win a lot of awards, but with High School Rodeo, since I'm still new to the program, I haven't won anything through that yet." Cleven described the Rodeo award system; "It's a timed event, and they get down to hundredths and thousandths of a second; depending on your time you can win money and things like that."
Cleven practices every day with her horse, whom she is very fond of. Cleven stated; "They [horses] definitely have their own personalities."
Training horses is apparently very difficult. As Cleven stated, "It's like trying to teach a little kid something. It's hard to find where you click and be able to put things in a way that they understand what you're trying to communicate."
The High School Rodeo consists of many different events. Cleven commented, "There's about 15-20 events total, and it's separated for boys and girls. There's about 10 events per gender." Cleven described the events she specifically participates in; "I do barrel racing and pole bending. In barrel racing, there's three barrels set up in a triangle pattern, and you perform a figure eight around the first two barrels, and then run up to the third one and run back."
The rodeo is not a full-year event. "We take a break for the winter season, and start up in the spring," Cleven stated. "We perform a couple of weekends every month."
Cleven also described the beginnings of her career. "I worked at a ranch for a long time. Then I got my horse and began participating in these events. I've stayed with it ever since." Her horse is kept a mere five minutes from the school.
Cleven loves participating in the High School Rodeo. She stated, "It provides lots of traveling opportunities and social opportunities." Cleven is following her passion, and continues to diligently work and train in hopes of more future opportunities and eventually national recognition.