Wyatt Koelling shares secrets for success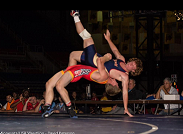 Varsity Wrestling Captain, Wyatt Koelling, was accepted to the nationally ranked wrestling program at the University of Missouri, also known as Mizzou.
"These recruits are excited to live the #TigerStyle lifestyle. From their visits, they came away impressed with the culture of our program and what our student-athletes are doing on and off the mat. They want to be a part of that culture. Each recruit is gifted athletically and academically and will fit in perfectly with our program," Missouri's seventh Head Wrestling Coach Brian Smith said.
For Koelling to get into a nationally ranked university, such as Missouri, was not an easy task. Koelling has been working towards getting the title of a three-time Fargo finalist, which includes a 2015 Greco Fargo Championship   since the seventh grade. Throughout his career he has had the same coach, Neal Porter.
"The way he got to where he is now, is because he trains every day; whether it's lifting or working out wrestling wise," wrestling coach Neal Porter said. "Personally, he has many trainers that help teach him the specific styles for what he is trying to accomplish when the specific time comes to use these techniques. He maps out what he is trying to do so that he can know what he needs to work out."
The dedication Koelling has had over the past 10 years has not died because he continues to love to do what he does best.
"Wyatt got to this point first through desire and determination. He wanted it so badly that he worked extremely hard to get there; he then started to develop the talent. Once the talent comes his hard work makes his talents explode," Porter said. "He does not burn out. He does not get tired. He wants to keep improving and working on it."
To become a National Champion, each wrestler must have at least 8 to 10 thousand hours on the mat working out. Koelling reaches that with ease.
"Sometimes I am in the wrestling room or gym working out for three to four hours at a time," Varsity Wrestling Captain Koelling said.
Time, patience, commitment, hard work, and a passion for what he does has helped him reach farther than the stars. For more information about the University of Missouri- http://mutigers.com/news/2015