MOB Chant Creates Twitter Fight with Viewmont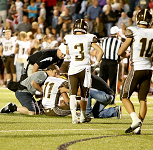 Tori Waltz, Segment Producer
October 3, 2016|16 Views
Davis High and Viewmont have been longtime rivals for generations, and have recently clashed on social media due to allegations of stolen football cheers between the two at games. After students from Viewmont accused Davis of copying one of their football cheers, known as the "Viking War Chant", an intense dispute emerged on Twitter which involved multiple students from both schools.
"I didn't actually see a lot of the tweets but I just know that it was heated and they (Viewmont) were bothered by it", senior Mikey Savage said. Savage went on to say "It makes sense because the name of the cheer is the 'Viking Chant', so that is pretty applicable to their school, but that doesn't mean that they necessarily came up with the idea for the cheer".
Rivalries are a common attribute of the high school experience and can last for several years, such as the case between Davis and Viewmont. Due to their close proximity and similar 5A school ranking, these two schools would inevitably become competitive in academic and sporting events.
"Competition causes a rivalry. We're great at athletics, they're alright at athletics" senior Keegan Reed said.
The majority of high school rivalries, although seemingly confrontational, are usually in good spirit and showcase the positive experience of friendly competition. In certain circumstances, rivalries can bring people closer together, despite arguments which may occur.
"I mean you go to Jr. High together and then go to Highschool and you want to be better at basketball or football, in this case it was football", Savage said.