Football Hopes to Continue Tradition of Excellence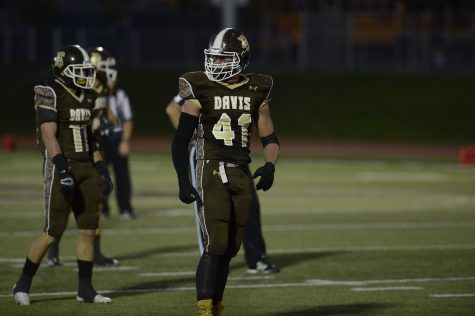 Friday night games are full of emotion, tradition, and bone breaking hits. Every game matters, not just to the team, but to the students and school that the team represents. School pride can rise and fall based on the final outcome posted on the scoreboard, and each individual play is unique and challenging in different ways. Each game is guaranteed to be unique from the last, and the only thing the team can control is how they prepare each week.
"Every game, anything can happen, you don't know what the outcome could be," running back Riley Smith said.
The atmosphere surrounding game day is in a word, electric. There is a sense of tension, like the calm before a storm, and the team does their best to stay sharp and focused on the day of the game, attending every class and staying out of trouble. The whole team dresses up in their best dress throughout the day, both in the spirit of respect for the game, and as a reminder to the team that they represent the team in how they act.
"There's so many things going on Friday, between that and school, you just try and stay focused and ready to go," said Smith.
One of the team's main philosophies is to always focus on how they prepare, and not to worry about the other team and how good they may or may not be. One of the many signs and banners that line the game day hall leading to the field reads "We are concerned with our effort, preparation, and execution. Not our opponents. We never address anyone but us, we let them worry about what we do." The quote, given by Tanner Hinds in 2008, is something the team tries to live by in practice.
"We prepare a little bit differently, but in the end it's all about how we execute our plays and it comes down to our play on Friday nights," said Smith.