Marching Band – More Than Just Music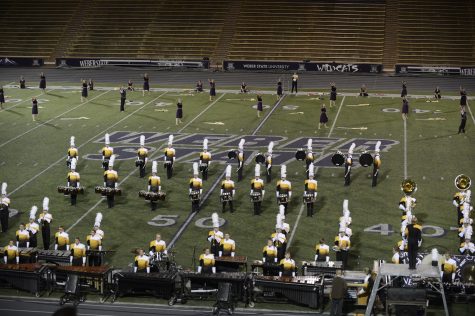 The Macy's Day Parade is an annual parade every Thanksgiving in New York City featuring floats and high school marching bands from all around the country. Recently, the marching band was selected to perform in the parade in 2017.
"Parade performances like Macy's and the Rose Parade, those are like feathers in the cap of band programs. It establishes them amongst the elite of the marching program in the country and even in the world," band director Mr. Hendricks said. "There's probably less than one percent, in fact it's probably .1 of one percent of band programs across the country ever get an opportunity like this so for these kids it's huge and for our state and school it's huge."
Even though the the parade is a year away, the marching band is already preparing for the performance by practicing every day.
"We're doing a lot of great rehearsals and learning how to move correctly and how to march in different sets and formations," Hendricks said. "As we get closer to the parade we're actually probably going to set up a big space, probably in the parking lot somewhere that is about the size of Herald Square that we can practice marching in, doing out show like they do in the parade in Herald's Square and then marching out."
Each of the students have to pay for their tickets to get to New York, but the band is trying to lower the cost of the expenses to help ensure that it is more affordable for students who want to go.
"We're estimating its going to be about $2,000 per kid, but the band is doing a lot of fundraising and were writing grants and seeking some corporate donations and some other things so that the kids end up not having to pay that much," Hendricks said.
Hendricks is currently planning on permanently retiring at the end of that school year.
"At the end of the 2017-2018 school year I will be completing my 30 year career as a music educator," Hendricks said.