Swim Team Sets and Breaks Records
Spencer Hill and Bentley Holley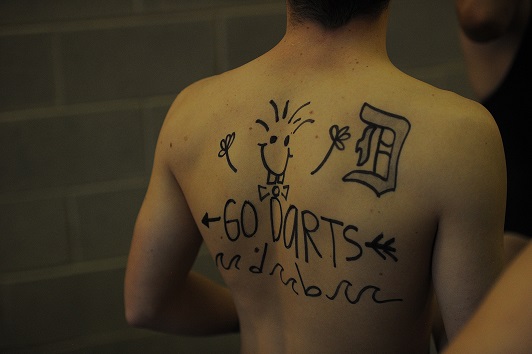 Swimming is a sport that requires only a love for the water and the ability to push the body to its physical limits. The swim team is full of different people with the same love for the art of mastering strokes and dropping time. For many of the swimmers, swimming is something they are passionate about; whether they love the challenge, competing, or both, it is something that keeps them coming back to practice.
"I work my butt off at practice. It's easy to just sit on the wall and not push yourself,"  junior Olivia Smith said. "If you want it bad enough, it makes practice worth it."
The swim team works hard to motivate each other and drop time together. Being a team and working together is an important part of any competitive team.This year the swim team defeated the mentality that they compete in an individual sport.
"We focused this month on lifting each other up and helping each other out in practice and at meets," Coach Kit Barker said. "As a team we came together beyond what I thought we were capable of. All of a sudden we [had] school records within our grasp."
One other major part of swimming is being able to keep a good attitude mentally and not just physically. Being mentally strong is just as important as being physically strong in being able to break records..
"I work my hardest and I mentally prepare myself. It also helps to visualize it," junior Andrew Simonsen said.
As they perfected things like technique, strength and mind games, the swimmers gave it their all this season. They pushed hard, worked hard, and it has now paid off for them. In this season, they have compiled a State Team of seventeen swimmers as opposed to last year's twelve.