Volleyball Club Sets Up Opportunity for Boys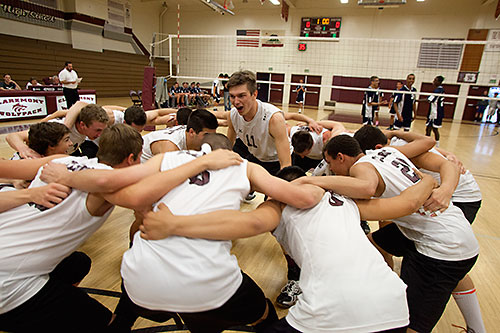 In recent years multiple coaches have gotten together to form a boys volleyball league at the request of many students. The league has been in place now for five years and is open to boys in the Davis and Weber Counties.
"Usually we have about 5 teams from Davis then we have teams that come from Weber, Ogden, Syracuse, West point just different areas around here," volleyball coach Ms. Slavo said. "It makes it really fun. So then the kids have the opportunity the top four teams that enter our league get to go to the boy's state tournament in Salt Lake in May."
They are put on teams, practice for the month leading up to the season, then play in weekly matches from March to May. The league has given many boys the opportunity to advance and learn more about playing volleyball.
"Joe Rocha that played for us a couple years, he actually decided to move down to California he loved it that much that he's playing down there playing club, beach and everything year round, to play volley ball," Salvo said. "It's all about the boy and how he pursues, how much he wants to play and how much he wants to get into it."
BYU, located in Provo, Utah  has one of the top ranked boys volleyball programs in the nation. However, at a high school level boys volleyball is much less popular. It is not a UHSAA (Utah High Schools Athletic Association) sanctioned sport for a number of reasons.
"It's all about how many athletes play football and how many play all these different sports, so it's one that's just never going to start, so it has to be more like a club," Salvo said.
Despite the lack of high school teams the various clubs and leagues are still promoting the growth of the sport. Depending on the dedication of the athlete, there are many opportunities to take part of.
"There [are] scholarships and I think that would be way cool to get a scholarship for volleyball," senior volleyball player Corey Crockett said.
Boys volleyball is a quickly growing sport in Utah and through multiple clubs and leagues many people are getting the opportunity to aid in that growth. The league games are played every Thursday night at 6 PM starting March 9. For more information about the league or joining the team contact Coach Salvo at [email protected].