Ping Pong Club Grows in Popularity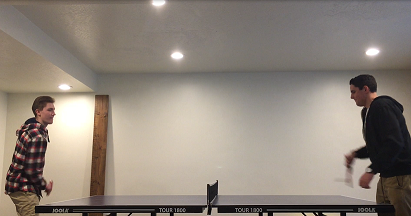 Ping-Pong Club was founded by current president Robert Song. 8-10 people meet on Tuesdays and Fridays during lunch in the small gym to play ping pong.
"We started off with three or four of my friends but now we have usually around 8-10 people," Song said.
The composition of those kids vary widely. Many have played for a long time and others are just starting, but they get together to have a good time and help each other get better.
"I've played for a long time, and I love the game, so playing during lunch is a lot of fun," ping pong club member Nathan Miller said.
Lunch time is not the only time the club members meet.  They play on their own or with friends after school ends as well.  They train and practice so that they can become better every day.
"First I get a stress ball, but second it's like washing cars.  Wax on wax off baby," Song said.
All things considered, members of the Ping Pong Club spend a lot of their time working on their ping pong skills.  The game becomes part of their life and they love it.
"It is one of my favorite things to do when I have free time.  Without it I'd probably just be wasting a lot of my time doing nothing, so I decided to create the club," Song said.
At first glance creating a school club can seem like a daunting project.  However once looked into, the creation of the ping pong club was not too complicated.
"I had to talk to Salvo which is the adviser and then also talked to one of the office member people in the office, with a couple paperwork as well," Song said.
 As it continues to grow, this club enriches members' high school experience, leading them to find new friends as well as improving their skills to help them become the best player they can be.