BYU Invite Proves Successful Meet for Track Team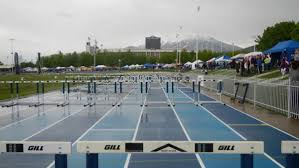 The track team competed at the BYU Invite May 5 and 6. They have trained and prepared for months and will be a part of one of the largest and most competitive meets in Utah.
"You have to qualify to get there," track member Miah Weaver said. "So only those with the fastest times is who you're going to be competing against. So big competition, fast times."
Members of the track team not only train for their own events, but there are also many events that they take part in that involves teams such as the relay races. These include the 4×100, the 4×400 and the Medley.
"I run the 800, the mile and the two mile," Weaver said.
Many of the athletes competing have been running, jumping and throwing their whole lives. Often they are influenced by friends or family and again the team aspect of the sport in reinforced.
"[I became interested] when my oldest brother and oldest sister were running for Woods Cross," track athlete Xakai Harry said. "Watching them run got me into it."
Harry is one of the many successful athletes on the team this year. Competing in four different events, he is busy training almost every day. His team has had a very successful season thus far and they are hoping for that to continue in both the BYU Invite and State at the end of May.
"Right now we are feeling pretty confident," Harry said. "I really believe we could win state for the 4×100."
Congratulations to all the athletes that participated in the track meet. For more information on joining the track or the cross country summer team see Coach Talley or visit www.davisxc.blogspot.com for more information.