Pro Scooters Gain Popularity Among Teens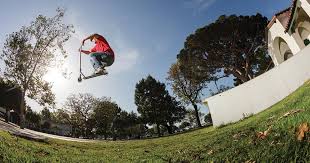 Every once in awhile, new attractions emerge in the world of sports, winning over fans and "noobs" to try them. Within the last few years, one sport has seemed to draw a lot of attention.
"Scootering has gotten a lot bigger recently for a lot of reasons. I like it because it's not something you have to do on your own, you can get together with your friends and scooter wherever you want," scooter Devin Jaster said.
One reason for the attraction to scootering is that there are no bounds to where a scooter can go. It is portable and easy to use, making transportation and access to other places easy and fun to get to. A group of students formed DC Skate, a club which gets together to scooter.
"The club, at times we've had up to 30 participants and that's awesome, but it's DC Skate, so Davis County Skate Club, so we're just open to anybody in Davis County and I think there's no limits for this and we'll take this as far as we can," DC Skate member Jake Barnes said.
    Scootering among high schoolers has increased in popularity, and with the rise of scootering among others, it will be interesting to see how popular and far this new sporting attraction gets.