Red Ribbon Week Promotes Drug Awareness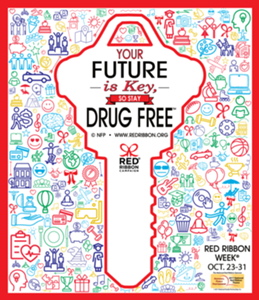 Since the beginning of its first national celebration in 1988, the Red Ribbon Campaign has been all about bringing drug abuse awareness to the Nation.
"Your future is Key, So Stay Drug Free" is the 2017 national red ribbon theme. The theme was submitted by middle schooler Iris Yu who in addition told the Red Ribbon National organization, "You don't get a second future. It's why you do a lot of the things you do…in hopes of having a good future."
"Red Ribbon Week has been a big eye opener, really showing me how prominent drugs and alcohol are where we live. It's been big to me to show me just how avoiding them can really help us be successful," Senior Ashley Braithwaite said.
With the increase in national overdose deaths and drug addiction being one in every twelve teens, campaigns such as the Red Ribbon Campaign stay strong to promote their message.
For more information you can visit these websites:
.
https://www.drugabuse.gov/related-topics/trends-statistics/overdose-death-rates
https://americanaddictioncenters.org/rehab-guide/addiction-statistics/