Jesse Wade and Abel Porter lead the DHS basketball team with humble hearts
Identity is the key to any star athlete; in order to form their own footprints, junior point-guard Jesse Wade and senior guard Abel Porter on the Davis High Basketball Team have shared their diverse personalities, but remain similar in ambition. By doing so, the duo has helped to bring popularity not only to their team, but also to themselves in the plethora of awards and newspaper articles honoring them.
Jesse Wade: "I'm not the kind of person that's not going to tell you what's on my mind," said Wade, making a statement that sums himself up. "It's not really what I do, it's the people that I'm around." Not only with his team, but with his five younger siblings he expresses deep compassion believing that they are "more athletic… they're going to have a lot more interviews. If anything, I look up to them."
A kid straight from the heart, Wade will hang out with friends, go to the movies, play minigolf, anything that a teenager does. With this friendly attitude the junior chooses to focus on his high school years before they're gone, and said, "I'll never be satisfied no matter what happens, but I'm just enjoying it." Porter could say the same about how his friend behaves when he called the point-guard "one of those genuinely nice kids… he's an amazing basketball player and works harder at his game than anyone I know."
All of this hard work started when he visited Davis games when he was younger, fueling his passion for basketball. It wasn't until the "Sweet 16" NCAA tournament that caused him to start dribbling as soon as he came home. When he became a sophomore the varsity team welcomed him in. "It was scary a little bit," said Wade, "but I got comfortable; I feel more experienced and a lot more confident than last year."
Last June, Gonzaga University watched the Davis Basketball Team at a camp and later recruited Wade. Although he already had offers from three other colleges the point-guard accepted, and explained that "I prayed about it [and] Gonzaga felt right to me. It's always been a dream school for me… I thought it was a good fit, and John Stockton went there." Currently, he is nominated for the Gatorade Player of the Year Award and waits for the announcements.
Abel Porter: "Nothing comes easy," said Porter, "you have to work for what you want. It doesn't just apply in sports; I've learned that in school [and] in relationships with friends and family." With only older sisters to grow up with, the guard looks to them as his inspiration for sports. He calls his nephews and nieces "the little siblings that I've never had. It's been fun watching them grow up, and I love being an uncle." Outside of basketball he continues to make an effort in his relationships with friends and family, and will participate in other activities when he decides to take a break.
Wade describes Porter as "strong, a great shooter and penetrator. He controls the floor so well, he's really smart and makes great plays and passes… I absolutely love playing with him." The court wouldn't be the only place where someone could see Porter, he also had experience playing on the football field, and continues to enjoy both sports; football awards have been given, however, and Porter, feeling that basketball is better for him, now continues his senior year on the team that many people know him for. Porter found success in basketball, receiving 2nd team all state and 1st team all region.
From these two sports that Porter continues to play, he sees himself as "the quarterback of the football team on the basketball team… I try to be a vocal leader, and also moral… whatever the team needs me to do, I want to do." In whatever he does, the guard searches for friends to make great experiences possible, knowing that "It's all about the connects that you get in college." In his future education plans, Porter holds a full ride scholarship to The University of Hawaii and a walk-on spot for Utah State.
The Two Together: Being Division I basketball players allowed Wade and Porter to play with the Utah Prospects AAU team, as they travel all over the United States and play against the other national groups.
Both athletes have enjoyed the Davis Basketball Team this year. Wade commented on how well his team feels around each other: "We laugh a bunch… when you come in before a game, when other teams aren't talking to each other, we're all telling jokes, laughing, getting all loose. It's like the domino effect: once one falls, everyone else pipes in." "Now I have friends for life," said Porter. "You become brothers after a while, and that feeling, honestly, is the best."
"In the end The Church [of Jesus Christ of Latter-Day Saints] is the most important thing to me," said Wade, who is preparing for a mission along with Porter. As his graduation is approaching, Porter has this and many other events coming closer. "Everyone always tells you how fast things go by," said Porter, "but you don't really realize it until you're in the moment."
Once their missions are over Wade and Porter plan to play basketball as long as they are able, but they also hope to learn more about business. "Basketball will end," said Wade, "and I want to maintain a job for my family… A family that I'll know that I love, spend time with and provide them with what they need."
Even with all their success, imagining themselves in the NBA brings Wade and Porter to laughter at the idea. "If the NBA was an option," said Porter, "[I'd play] for sure, but as long as I get to play basketball I want to. I'm just taking life's path, nothing really too special." "I just go and play," said Wade, "and whatever happens, happens.
After college, whatever I need to do I'll do."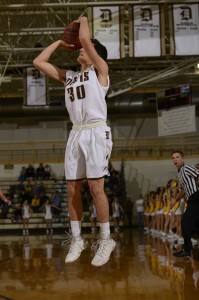 The basketball season finishes in March, and the destinies of Wade and Porter continue to be fulfilled. Until then, the game and the championship prolongs.