Fun Things to Do This Winter Season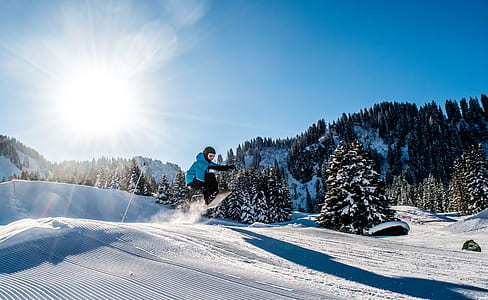 What are some fun things to do doing during winter? There are so many things that work for you whether you like or dislike the cold. Let's look into the many different options for entertainment during the coldest season of the year.
As we transfer from Autumn to Winter, we may be needing new activities to do. It's too cold to go for a walk, or have picnics, or hang out outdoors, but there are many activities that entertain and give you experiences you may have never had before.
For those of you who like being active, there are many options. Usually, exercise warms you up, so becoming cold isn't as much of a concern. Skiing and Snowboarding are two very popular activities here in Utah. Due to the insane amounts of snow that Utah manages to keep during the winter.
Utah's powder-like snow makes for great times when skiing, snowboarding and sledding
Ice Skating is popular. Fair warning to those who have weak ankles, you may need an ankle brace. If you've never been, it's quite similar to roller-skating, although you need a bit more balance.
For those of you who like to be outdoors, but don't necessarily enjoy being active, there are many activities for you as well.  If you're a Disney Fan, you could visit the Midway Ice Castles, and feel like royalty.
You could go for a horse-drawn sleigh ride, to channel your inner Hallmark movie.
If you love camping and related activities, you could try camping in heated cabin rather than a tent. You could also go Ice Fishing at Bear Lake, and go on Trail Rides in Bryce Canyon.
If you have a budget to worry about, there are plenty of things for you to do as well! Not all fun winter activities have to cost a fortune.
You could look up a list of houses with amazing Christmas decorations, grab some Hot Cocoa and some friends and go for a drive to gaze at the sparkling lights.
You could find a new book, and cuddle up on your couch near a window and read as you look out at the snowy world outside. You could also get some friends and play some board games.
Seeing the frigid outdoors when you are warm and cozy indoors is such a nice feeling.
One activity is a movie night. Call your friends and tell them to bring a snack or dessert to share. Pick out some movies and watch the movies together, wrapped up in blankets. You could even ditch the movies and just have conversations with each other.
Although some of these activities may not be as fun this year, with the COVID-19 epidemic being so prevalent, we should still try to be positive and try to change them or reinvent them so we can still have fun this winter, and make some memories this winter.