Minecraft: A Place Where the Possibilities are Endless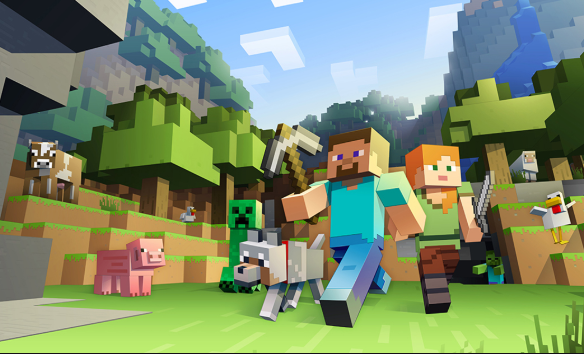 Many people have heard of the popular game Minecraft, originally called "Cave Game", it was released in may of 2009 by its creator Markus Persson. The world of the game is made up of blocks that can float except for a few elements like sand and gravel etc. As you gather resources and upgrade your tools you can build and create anything you desire and brainstorm. As the game began to gain some traction, Persson quit his job to work on the project full time and frequently releasing updates. The really took off when the "alpha" update came a year later in June of 2010, which introduced new blocks, new mobs, survival mode, and how water flows. With the game starting to gain a following Persson created a game company called Mojang with money earned so far to help back the game.
With a few new employs Mojang moved the game out of beta and released a full version on Nov. 18th 2011. The game has been updated continuously since its release on PC, and has also been released on other platforms like the Xbox and Playstation.
Minecraft offers several different game modes. The first of the options is survival mode. In survival mode you need to gather resources, craft tools, build shelter, and whatever else you can imagine to help survival the enviroment around you.
The next mode is made especially for those with a creative mind hence the name "Creative". Within this mode you are given and infinite amount of every block in the game and the ability to fly. In this mode the sky is truly the limit. You can build and create anything your heart desires.
The last mode is called Hardcore. This mode is similar to survival except in the fact that if you die the world is over and you must start all over from the very beginning. The mobs are also much harder to slay in this game mode, so make sure watch your back.
Minecraft also offers severs that allow you to play with your buddies. Servers offer all three game modes as well, so next time you have some time grab some friends and see what you can create.
Whether you're 10 or 65 years old Minecraft is fun and has something that everyone can enjoy.