BC Chicken: The Best Around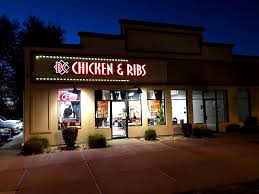 BC Chicken is an underrated restaurant in here in Kaysville. If you're sick of the fast food and ready for a meal that doesn't take long to be prepared, go to BC Chicken on 20 S Main St. Kaysville UT.
It is a Greek restaurant that is one many peoples personal favorites when looking for a quick bite to eat. Plenty students here at Davis go almost weekly, especially when when tired of fast food and not wanting to cook.
Very few people dislike it. There are many friends and in-home family that enjoy it even regularly. They also have a Facebook page that can easily be visited and displays pictures of its menu.  
Some of their menu options are gyros and shish kabobs. A personal favorite is the #7 but there have been many that get salads and other items on the menu. The #7 is a gyro meal that is deconstructed, this is the best part about it because it's a treat to be enjoying each thing separately. 
They smoke their chicken in house and have many other meat options as well. Other favorites are the #1 and #2 which are their shish kabob in either chicken or pork. Then the #8 which is a salad option.
They have free drinks on Mondays and aren't pricey. It is child friendly and offers a kid's menu. They have to–go and call in options, and if you dine in, they bring the food right to you. They also can cater events for any large groups.  
"the food is pretty good quality and filling. The employees are nice and wait time for your food isn't very long. My favorite thing to get is the chicken gyro meal, the #7 as shown on their menu. I enjoy the environment, I don't feel like they're in a rush and it is family friendly, I go with my parents often." – Ty Knight