Kristen Whitlock, the luckiest teacher at Davis High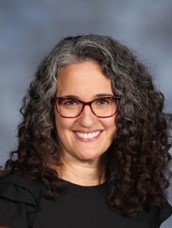 Kirsten Whitlock, Davis High School's beloved psychology teacher, refuses to take the
credit for her outstanding AP psychology test pass rate, (average 95%). Although, she has taught her students everything they know.
"I'm not the one taking the test," says Whitlock
Teaching holds a very special place in Whitlock's heart. "I feel incredibly lucky…to be
teaching something that I love, to people that I really love. I can't be thinking of a better way to
use my time." Whitlock says emotionally.

Whitlock is beyond qualified to be teaching AP psychology, and when learning about her
background, her incredibly high pass rate is not a surprise at all. Whitlock has been teaching
psychology since 1992, this year marks her 31st year teaching.

Teaching is not the only thing Whitlock has been doing in her psychology career. She has
been a part of several published books and has written articles that have been published as well.
Whitlock may be humble about her accomplishments, but that doesn't change the amount
of respect she has gained in the world of psychology.

Whitlock was invited to serve on AP psychology test development committee, which she
did for 3-4 years. Then returned later as the college board advisor to the test. This involves
writing questions for the AP psychology exam.
"It's so hard to write a really good question that really assesses what you want it to." Whitlock states.
What really sets Whitlock apart from the rest is her motivation and drive to always learn
more. She has always pushed herself, and that has resulted in opportunities arising.
"People notice hard work," stated Whitlock.
Whitlock attended a rigorous month-long psychology teaching conference that
challenged her a lot. Whitlock believes this is what really shaped her career. One professor
challenged her to "go back and do" and help others benefit from psychology.

Whitlock took this challenge and ran with it. She has been helping others benefit from
psychology for all 31 years of teaching, enlightening all kinds of students, and will continue to
change lives as her career lives on.