The man who understands what the most important job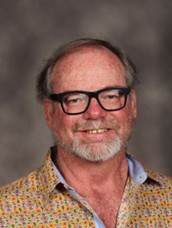 Michael Navidomskis has taught at Davis High coming up on his 30th year. An amazing teacher who loves his students and is only teaching to prepare the youth and upcoming generation.
"I wanted to do whatever I did to be important; I think teaching is the most important job in the world." Said Navidomskis.
Navidomskis was at first making 6 figures or just under 6 figures before he started teaching. He was in the U.S. State department as a foreign service officer. Sacrificing his material wealth to help young adults for 3 decades while putting his goals in life on hold.
Navidomskis loves to go traveling and to be active, he loves going all over the world to see the culture and people of every country he can go to. One trip that he is proud of is that when he was young, he hitchhiked across the Soviet Union during the cold war. He said that he didn't necessarily always enjoy the experience, but he learned a lot from it.
"Last summer we Hiked through the Alps to Germany, where we cycled to France. The year before we had cycled from Paris to London, I consider that as one trip though." Said Navidomskis.
But Navidomskis still has much to do on his bucket list, and he cannot do what he wants to do with the current job he has.
"Originally, I was going to retire in June of 2022, but I found out my wife couldn't retire until January of 2023. So, I couldn't retire without my wife, that's why I stayed another semester." Said Navidomskis.
He has told the administration that he is going to leave after the first semester of 2022-2023. So, he is teaching more classes this semester. Especially his current issues class. They don't know who will teach the current issues after Navidomskis because he has done it for so long. So, the coming years might not have a current issues teacher.
"I want to sail around the world with my wife next year, from Sydney Australia to Sydney Australia. And after we retire, I want to go skiing in Steamboat and Banff for 2 weeks. I want to get in 80 skiing days this year, me record is 56 and I already have 6 this year." Said Navidomskis.
It is going to be hard losing such an amazing teacher who only cares about the kids and wants to help them grow. "I wouldn't do it if it weren't for the kids." Said Navidomskis. The next teacher will have some big shoes to fill. But Navidomskis finally will get to live his dream.