Softball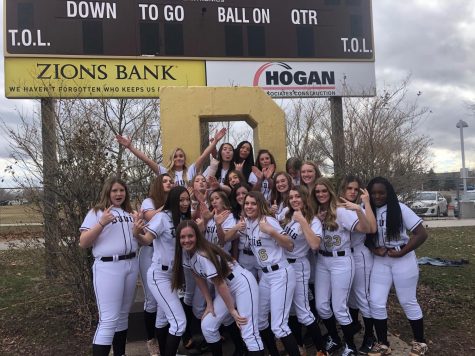 The Softball team suffered a tough loss to Fremont last Thursday. The Darts fought hard throughout the entire game but came up short 4-0. The softball team is now  3-1 in region. As they near the end of the first round of region games, the team is confident, they know what they need to do in order to progress. They're prepared to enter the state playoffs in about a month.
"There's always room for improvement." says senior Sidney Eyre. "We need to keep working as a team and play off of each other's strengths in order to be successful." added senior Maggie Miller.
Last week, the weather was very poor and the team was only able to play one of their games. It is very difficult for spring sports like softball to stay on track with all of their games because the weather here in Utah. Often times the weather does not permit games to be played. This is one of the many obstacles the softball team must face each year, but they always find a way to work through it. The team works hard to make sure that the weather doesn't get them out of sync with each other and that they're still able to compete at the highest level they can.
This week, the softball team will be playing Layton and Syracuse. The Layton game is always a challenge for every sport because of the strong rivalry, and this is no different for softball. Syracuse always proves to be a challenge, as well. As the softball team continues to find rhythm, they will be able to find success against these tough teams.
Softball is a very fun sport for spectators and as the weather gets warmer, it is a great after school activity! If you ever find yourself bored after school, come to the softball games!!