Davis students bring on the creativity for homecoming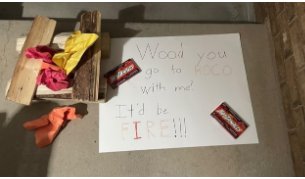 You might have thought that you've heard of all the best ways to ask to the dance. But thanks to some Davis High students there might be a few more ideas that you can use for the next one.
Taylor Huffman was asked by Landon B. he asked by putting wood and hot tamales candies on her porch with a cute sign that said, "wood you go to HOCO with me?" Taylor then replied with a simple short phrase "s'more!" and added to his theme with s'more supplies.
Some other creative ideas were from Caitlin Richerdson, her date asked with a live chicken and said, "Will you be my chick at HOCO?" Although this is hard to top, Caitlin had the perfect idea to reply with. She had an alarm, treats, and a mannequin head underneath his bed. Caitlin then set the alarm for 2 am, and on the poster put "I didn't mean to alarm you… YES!!" Imagine waking up to that! Maren Williams also got asked in a cute way, her date left a poster that said "HOCO would rock with you" and left pop rocks, and a rock star drink. Her way of replying was "I think it's time I oFISHally said yes!" and left Swedish fish and goldfish.
Those ideas may have been a little too much for some people. Brooke Hidlt got asked in a cute
simple way that would be great for a last minute asking. Her date asked with "HOCO would be sour with
you, will you make it sweet and go to homecoming?" he left skittles and sour patch kids along with that.
"I'm not always a smartie, but I would be a Dumdum not to say yes" is how Brooke replied, along with
smarties and Dumdum candies. Another unique idea was from Lucas Baird, he asked Samantha Nichols in
a cute and clever way. The pictures are shown below.
Finally, here are some of my favorite ones out of all of them. If you're looking for a funny way to
answer Sofia Vanbrocklin, put a shopping cart on her dates porch and said "you stole my heart like I stole
this shopping cart" I'm sure anyone would be surprised and laugh at this clever answer. Ian Jensen also
found a fun way to ask with "lets make an adventure and homecoming?" Which his date then replied with
a real toad and a poster that said "I'm hoppy you asked… toad-ally"