Mr. Stevens Leaves Legacy With Recorder Club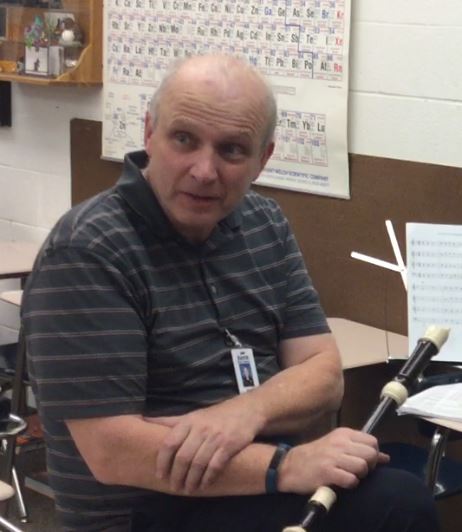 For several years Mr Stevens has been a teacher here. Not only has he been a teacher, but he has also been in charge of the recorder club, which has been around just as long as Mr Stevens. But over the those years of Mr Stevens being in charge of the recorder club, the group size has varied from several students to none. This is one of those years where there are few students involved.
"This is a recorder group, it is not even a club," said Mr Stevens. "It is just a bunch of people who play the recorders."
There are two students who play recorders with Mr Stevens, and they have had great experiences.
"I have been playing since last year, my junior year, at the beginning of the year I started it," student Megan Johnson said.
Even though there are not very many members this year, Megan Johnson has still enjoyed playing the recorder with the people that are involved.
The other student, who is a sophomore, has also had a good time playing with the recorder group.
"I have been playing the recorder pretty much since school started, that is it," student Hannah Orgill said. "And I was really surprised when I got to do the tenor recorder."
Mr Stevens gave a brief description of the recorders that the group played.
"This is the one most people know, this is the soprano, this is the one that 'murdered' in sixth grade," Mr Stevens said jokingly, pointing to Megan Johnson and her recorder.
"This is an alto," Mr Stevens said, lifting up his own recorder.
"And that is the tenor, which is a lot bigger, and it is harder to play," Mr Stevens said as he pointed over to Hannah Orgill and the recorder she was holding. "But she is a clever girl."
Although the group has had a great time playing recorders together, it is uncertain whether the group will continue next year. This is Mr Stevens' last year teaching, and he has attempted to find another teacher who would be willing to continue the group, but he is yet to find someone who could take on the task for sure. Despite the risk of the recorder club not continuing, Mr Stevens, Megan Johnson, and Hannah Orgill continue to meet together and play recorders.